Career Technical Education is Within Your Reach!
Toledo has many jobs in career tech fields. Community colleges or apprenticeships are a great place to start or continue your career tech education. Community college offers a wide variety of career tech certificates and associate degrees. Meanwhile, apprenticeships gives a mix of real world and classroom training.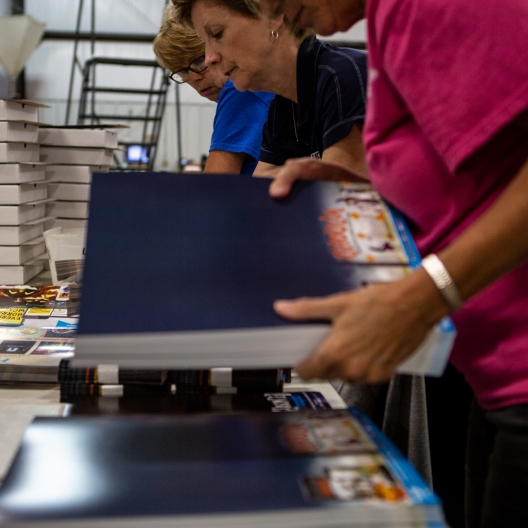 Everyone can afford community college
Financial aid can often be used for career tech programs. Community colleges are great places to earn career tech certificates and associate degrees.
So fill out the Free Application for Federal Aid (FAFSA) to see how much aid you can get toward community college! If you are Pell-eligible, community college is inexpensive and maybe even FREE!
The FAFSA Can Be Used for Many Community College Programs
Advanced Manufacturing

Applied Engineering

CAD Technology

Nursing

Medical Billing and Support Certifications

IT Professional Accreditation

Dental Assistant Academies

Broadcasting Professional Training Academies

Diagnostic Imaging Certifications

Barber Colleges

Culinary School

Trucking Academies

Alternative Medicine/Massage Certifications

Music Professional/Production Certifications

Theology/Seminary Schools
Learn more about the FAFSA here.

Learn more about apprenticeships here.
What are Express Dual Admissions Programs
The University of Toledo, Bowling Green State University and Lourdes University offer express programs in partnership with community colleges. The student takes two years of classes at Owens Community College, Mercy College of Ohio, Northwest State Community College, or Terra State Community College before moving on to the University of Toledo, Bowling Green State University or Lourdes University for their bachelor's degrees, which means a much lower cost for a four-year degree.
Owens Community College
Owens Community College offers more than 70 academic programs and certificates for preparing for a career, retraining, professional development or credits to transfer to a four-year college.
Advanced manufacturing, nursing, business technology, criminal justice and emergency services are just a few of the many offerings

Average class size of 14 students

Robust campus life through student activities, clubs, organizations, express athletics and volunteer activities

Scholarships through the Board of Trustees, through the college's Foundation, and from outside contributors

https://www.owens.edu/financial_aid/scholarships/
Certificates
Engineering/Manufacturing

CAD

Welding - 6 types

Automotive Service

Industrial Mechanic

Pipefitting/Plumbing

Nursing/Health Professionals

Medical Assist.

Dental Assist.

Computer Programming/IT
Visit us to see why we believe Your Success Starts Here!
Mercy College of Ohio
Located in Toledo, Ohio.
Offers 30+ programs from certificates to graduate studies in the healthcare field.
Scholarships through individuals, alumni, and academic and busienss organizations.
Sample of Certificates/Programs
Certificates

Community Health Worker

Emergency Medical Technician - Basic

Medical Coding Certificate

Paramedic

Programs

Health Sciences

Nursing

ABSN

Biology

Master of Health Administration

Master of Science in Nursing
Northwest State Community College
Located in Archbold, Ohio. 

Nearly 70 academic degree and certificate programs

Full and half-tuition scholarships to qualified learners (Presidential & Honors Scholarships).

The Northwest State Foundation awarded in excess of $800,000 in scholarships earlier this year to students, and expect to surpass that amount next spring.
Certificates
STEM/Industrial Technologies

Welding

CAD

Electrical Maintenance

Computer Technician

Nursing

Accounting

Logistics
Terra State Community College
Located in Fremont, Ohio, Terra State Community College offers
More than 60 degrees and certificate programs

Housing and athletics

Financial aid to 85 percent of their students
Certificates
Construction Technology

Utility Construction

Installer

Medical Assisting

Medical Assisting

Phlebotomy

Medical Scribe

Music

Recording Fundamentals
Performance Fundamentals
Check Us Out!: http://www.terra.edu/apply_aid/how_to_apply/index.php
Penta Career Center
Located in Perrysburg, Ohio.

Penta offers programs tailored to high school graduates and adults seeking certificates for a broad range of trades

Learn more

here.
Certificates
Auto Maintenance

Construction Technologies

Dental Assisting

Intro to HVAC

Phlebotomy Technician

CNC Machining

Welding

Forklift Certification