Do things earlier and you will have more options!
There is financial aid to help EVERYONE go to college. 
Like most things in life, it pays to finish things on time. The sooner you submit the Free Application for Federal Student Aid (FAFSA), the more benefits will be available to you. Plus, many colleges have admissions deadlines. So don't delay!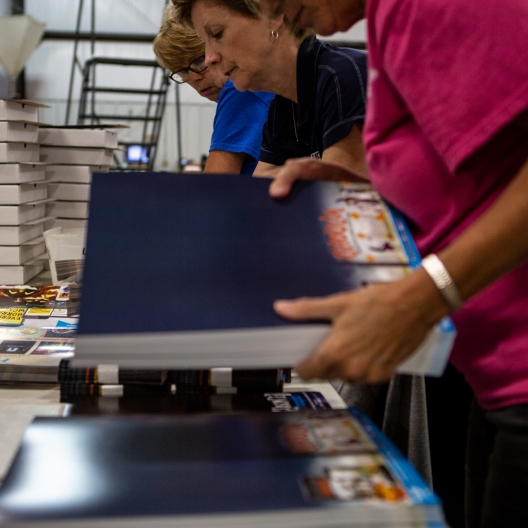 Can or Should I go to College?
Yes, you can! Even if you are considering career tech, one of our local colleges is a good step. A college degree or career tech certificate enables you to stay on a path to achieve your goals. College not only increases your knowledge in the area you want to pursue, but also enhances your earning potential. You can afford to go to college. Two-year colleges are less expensive, but a four-year can be affordable too.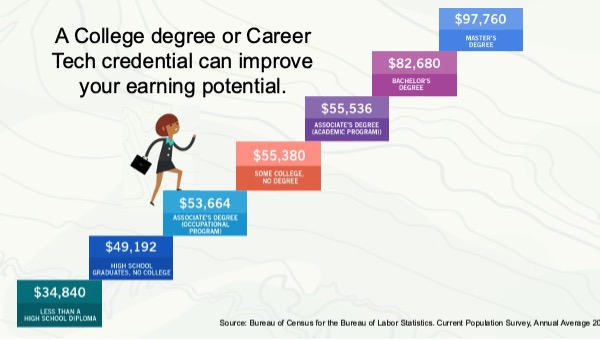 How Do I Apply to College?
Visit the college of your choice's website; their application will be in their admission section. Many schools, including all Ohio public four-year colleges, use the Common App. The Common App is one application that you can use to apply to a number of schools at the same time.
Start filling out your Common App now!
Yes! You can afford college! Think about what you want to pursue and whether a two- or four-year college is right for you. Most two-year colleges work closely with four-year colleges for easy transfer of credits so you can easily keep your education going.
Our website is designed to save you time with tips from those who have been through the process before. It will connect you with resources to make college affordable.
The FAFSA should be filled out ASAP! Filling out the forms sooner often makes more financial aid available. The sooner the college of your choice has your application, the better chance you have of getting all the aid you qualify for! Learn more about FAFSA here. FAFSA provides an EFC (Expected Family Contribution), which will be used to determine your federal and state grants as well as aid from colleges.
Every college website shows what their college will cost you, like these calculators from Owens Community College, the University of Toledo and Bowling Green State University. Visit the college of your choice to learn more about their costs and the aid they have available. Also, the college's financial aid office can walk you through all the aid options and help you find scholarships specific to that college and you.
Not sure where to start? Reach out. We are happy to help guide you, as are your high school counselors and the college you are looking to attend - their admissions and financial aid offices are there to help you!
Start Making a Plan Now!
Get your FASFA ID now! Have your parents or guardian create one too.

The FASFA opens Oct. 1. The sooner you fill it out, the better your aid package will be.

Complete your college applications by November.

December 1 Deadline for Merit-Based (academic) scholarships given by near all colleges. Many schools have January deadlines for need-based aid (grants & scholarships).

Learn about scholarship opportunities!
Find More Information Specific to Your Grade Level!
12th Grade 
Narrow down your options to about four colleges.

Take the ACT or SAT if required for your college choices.

Obtain good letters of recommendations from teachers, employers, counselors, etc.

Apply to college early once you know they are right for you.

Complete the FAFSA once it opens Oct. 1 and apply for eligible scholarships. The FAFSA is required for federal and state aid as well as for need-based scholarships from colleges.

Dec. 1 is the deadline for merit-based scholarship from colleges.

Continue participating in activities, especially those that demonstrate leadership, initiative and responsibility.

Keep an eye out for college acceptance letters.

Confirm admission by turning in all required forms. Take placement tests and schedule an orientation date.

Request that an end-of-year high school transcript gets sent to the college you have enrolled in.
11th Grade
Maintain your GPA, and make sure you are signed up for the courses you need to graduate.

Attend a college fair.

Take the ACT/SAT. Free practice tests are available. Ask your school counselor or check out the library or Khan Academy.

Keep track of important events and deadlines in a planner.

Come up with a few possible majors you plan on pursuing.

Once you've taken the ACT and SAT, figure out with your advisors which college options are the best and most realistic for you.

Schedule tours to colleges. Try to take tours that allow you to sit in on a class and ask questions of current students. You'll get a better overall feel for the college.

Create a potential budget for your time in college (tuition, room, books, food, transportation, etc.). Learn about college scholarships and financial aid.

Talk about the FAFSA and why it's important to fill it out early during your senior year.

Start prepping for college applications. Make a list of your most valuable experiences, like any jobs, extracurriculars, internships, volunteering and clubs.
10th Grade
Stay on track for high school graduation and college admission.

Take an AP or CCP class.

Prepare for the ACT and SAT. Get study books from the library or Khan Academy. Take a prep class.

Search for colleges and start making a list. Websites such as Collegeboard will be useful in helping find the right colleges for you.

Visit a college and take notes about what you like or dislike about each.

Develop relationships with teachers and leaders of extracurriculars for future letters of recommendation.

Get involved in valuable activities that interest you or might better set you up for the future.

Participate in summer enrichment programs.

Prepare for the Ohio Graduation Test.

Look at potential scholarships and work to save up some money.
9th Grade
Understand your GPA and how your grades affect it.

Become involved in some sort of extracurricular activity.

Think about what you might like for a career and what you need to do to achieve that career.

Attend a camp or event over the summer that relates to something you are passionate about.

Look into high school classes that allow you to earn college credit.

Look into beneficial internship programs.

Look into summer jobs and save your earnings for college.

Discuss finances with your family.

Shadow people who have careers that interest you.
Not sure what to do? Reach out for answers! Find college contact info here. Contact your high school counselor or Toledo Tomorrow.